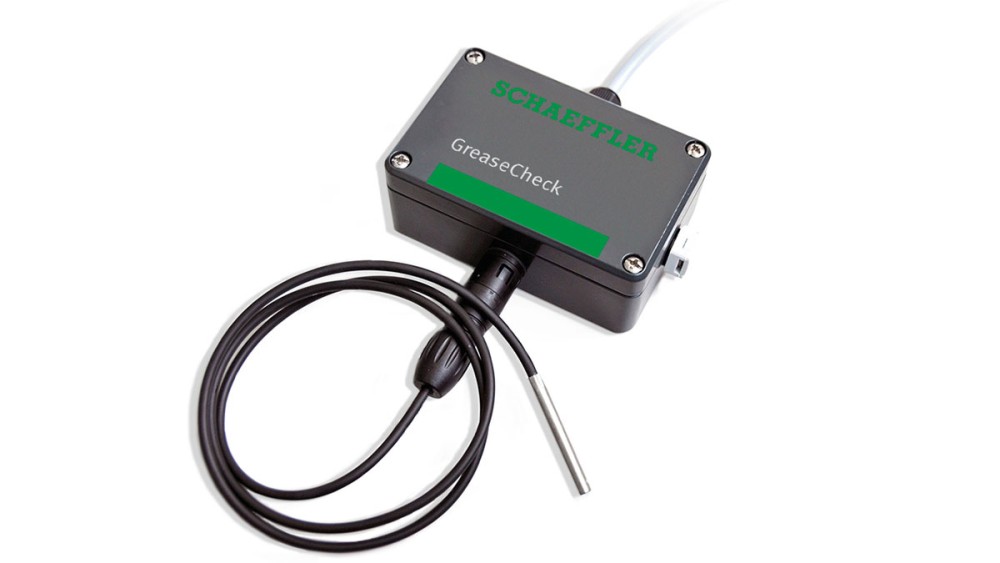 De gebruiksduur van het gebruikte smeermiddel is de bepalende factor voor de levensduur. Voor de controle kunnen, afhankelijk van de toepassing, vet- of oliesensors worden gebruikt. Het smeermiddel kan op tijd worden aangevuld of gewisseld, voor er schade optreedt.
GreaseCheck
De vetsensor heeft een diameter van 5 mm en wordt in een boring in de behuizing gestoken, zo dicht mogelijk bij het wentellager. De sensor wordt in het smeermiddel geplaatst. Dit vetsensor meet optisch het watergehalte, de troebelheid, thermische en mechanische slijtage, en de vettemperatuur direct aan de lagering. Deze informatie wordt via een kabel naar de analyse-eenheid gestuurd. De analyse-eenheid genereert een analoog signaal dat de gebruiker snel en eenvoudig informeert over de toestand van het vet.
Tot nu toe worden lagers tijdsafhankelijk nagevet. Vethoeveelheden en smeerintervallen worden rekenkundig bepaald. Door het gebruik van een vetsensor kan nu worden nagevet wanneer dit nodig is.
Met de vetsensor is het mogelijk:
naar behoefte te smeren
kosten voor smeermiddelen te verlagen
ongeplande stilstand te vermijden
onderhouds- en servicekosten laag te houden
installatiekosten laag te houden
Share Page